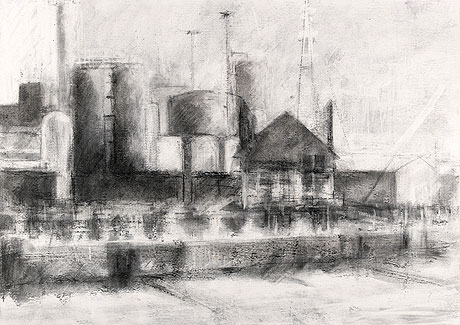 These Times
Acrylic paint, charcoal, graphite - 60 x 85cm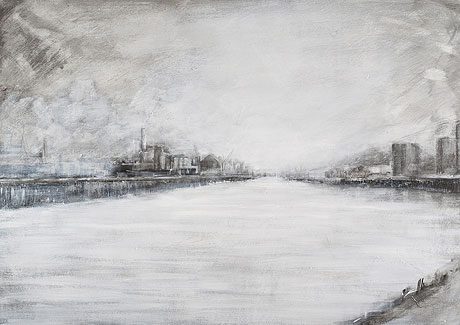 After The Gold Rush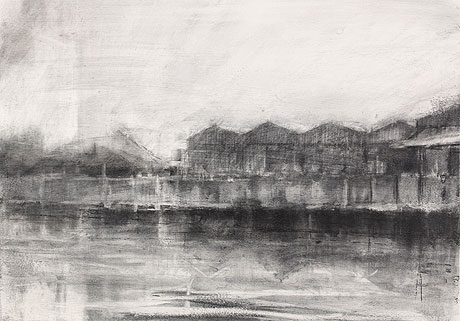 Blok
Acrylic paint, charcoal, graphite - 60 x 85cm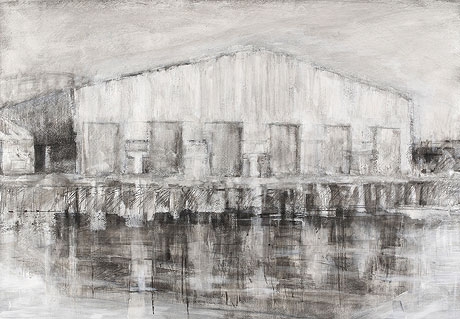 Temple
Acrylic paint, ink, graphite - 75 x 105cm
My work work explores the monumental and elemental nature of structures set within the higgledy-piggledy, unarranged landscape near my studio in South Denes, Great Yarmouth.
The imposing, rhythmic forms of warehouses, silos and factories, some defunct and crumbling, some spanking new, seemingly stand defiant, assuredly calm and impervious amidst the fluctuations of time and tide. The landscape of Great Yarmouth offers me a canvas I can make my own. The light dramatically influences the industrial architecture, describing and transforming the most utilitarian subjects.
As always, I work from studies made on site and try to seek out the visual structure of my subjects. The observational nature of my work is a part of the process, not the objective. My rigorous working methods allow for time and reflection as the work develops. The resulting pieces exude a quiet complexity and emotional resonance.