Jeffery Camp – Obituary
Jeffery Camp, former distinguished member of the Norwich Twenty Group has died aged 96. Having been a student of his when he taught at Lowestoft and Norwich, I have to acknowledge a debt of gratitude. It was Jeffery who proposed me as a member of the 20 Group and it was Mary Newcomb who seconded the proposal. They were both very active members in the early history of the 20 Group, together with others among whom was Michael Andrews. Together they formed the nexus of a discussion group dedicated to value judgements. All three are now acknowledged by means of having work in our national collections including the Tate Gallery. During the period of the 1950's and 60's the quality of the open critical discussions was such that artists such as David Hockney and Peter Blake descended on Norwich and took part in the meetings.
For Jeffery Camp, the coastal landscape formed the context of his creative life. Lowestoft and Pakefield followed by the East Sussex coast was the primary source. The emphasis on realizing a human presence within the universal drama of the interface of land and sea became a natural territory for which he was best known. I discovered a Jeffery Camp displayed on the wall of Pakefield Church. It was a typical fantasy image of Christ walking on water; he had given the painting to his local Church in the late 1960's. This act of benevolence was typical; he approached life entirely as an artist within the community and seemingly without much interest in fame and celebrity.
He loved teaching and concluded his teaching career at the Slade; the two publications for which he is best known are Paint and also Draw, which had a foreword by David Hockney, established his teaching reputation. He also subsequently became a member of the Royal Academy. I can remember him coming into the life room at Norwich, swinging his arms and saying out loud 'A painting a day keeps the doctor away'.
Peter Baldwin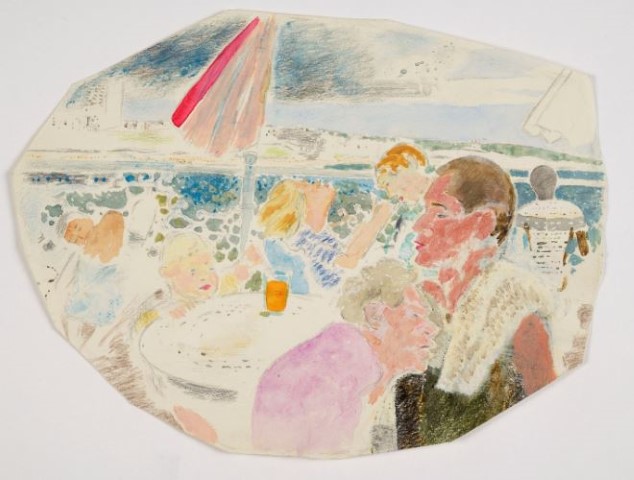 Beach Party, 2015 – exhibited at the RA summer exhibition last year