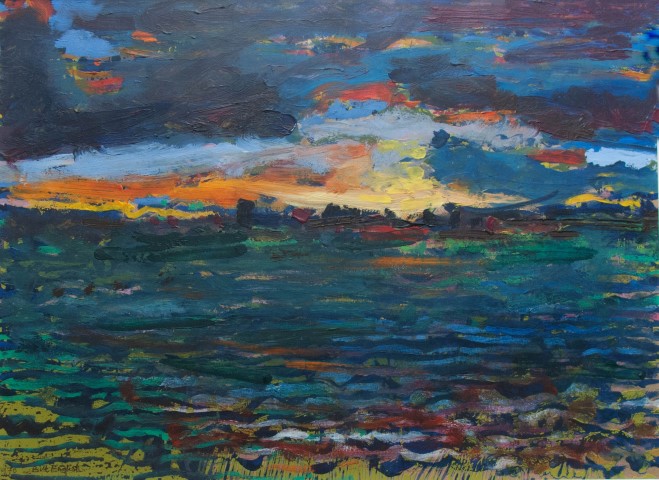 Plain Of Catalonia
Bill English died on Sunday 26 January 2020. He was 88 and had been battling cancer for several months.
Bill was Principal of Norwich School of Art and Design from 1972 to 1987 and had been a member of Norwich 20 Group for many years.
Bill was born in 1931 and from a young age was developing as an artist. In 1952 he studied drawing and painting at the Royal Academy Schools. He was awarded the James Knott Traveling Scholarship in 1957 and travelled through Western Europe, this lead to many influential experiences. Bill married in 1959 and he continued to make regular trips to Spain with his wife Helen. Bill became inspired by the Catalan landscape and had several one-man exhibitions in the local region.
He had a keen interest in education and searched for opportunities to teach in Art Schools. He went on to be head of Pre-Diploma Studies, Harrogate School of Art, Head of Fine Art, Derby College of Art and Design, Head of Fine Art, Trent Polytechnic, Nottingham and finally appointed Principal of Norwich School of Art in 1972. Bill remained principal until 1988 with a gifted staff of Edward Middleditch, Nigel Henderson, Derrick Greaves, John Wonnacott, John Lessore, Ana Maria Pacheco and numerous others.
Bill once said that his influences were:
"circumstances rather than individuals… all of it is integral with the nature of life. For a painting of mine to excite me it must surprise me, so chance and risk are important elements as is variety in idea, character, scale and treatment. Landscape in one form or another is fundamental to my work, whether more or less obviously so, abstract to a degree inherent is a search for a truth. The only person I aim to please is myself and I never do."